[size=medium]Update: November 13, 2013[/size]
I just want to share my progress and reason why I ventured into the amazing world of bodybuilding.
I was a skinny and small kid up to my teens.
At grade school I was always in front of the line. In high school I was second to the first (at least not the first!:D).
When I was in college I grew up a little bit from 5'2 in highschool to 5'6 when I entered my senior year.
But it was back in september 2008 when I started to work that I decided to change my lifestyle.
Coming from a family that has history of hypertension(my father died of it), cancer(my mother had throat but survived) and diabetes I know it's not far for me to catch some of these things but I believe that by making the right moves, i'll be able to slow down or better yet, never get these diseases.
Here's my pic, 5th year college(I'm BS Architecture) drinking sessions:
About 120lbs at the time (Buto't Balat)
A lot of inconsistencies and ill advises lead me thinking that I got great gainzz. But 2010 was the year that I actually made my first real gainz.
Year 2010
- This was the time of my delusional cut. Pic goes from bulk>cut>unnecessary cut(board exam!)-bulk

Year 2011 and 2012
- 1st photo taken in 2011, payat pa din. The rest was taken back in 2012. May mga incosistencies pa din lalo na sa buhat at ung work ko before eh napakalayo sa bahay, madalas eh abutan na sarado ng gym at madaming travel sa nature ng work ko. So cut>Bulk>inactivity
Year 2013
This year di ako nagmadali, tuloy lang ang bulk til june. So bulk bulk everyday lol. Now I'm reviewing my photos laki pala ng difference sa unang bulk ko. This was the only year that I was consistent both in training and nutrition.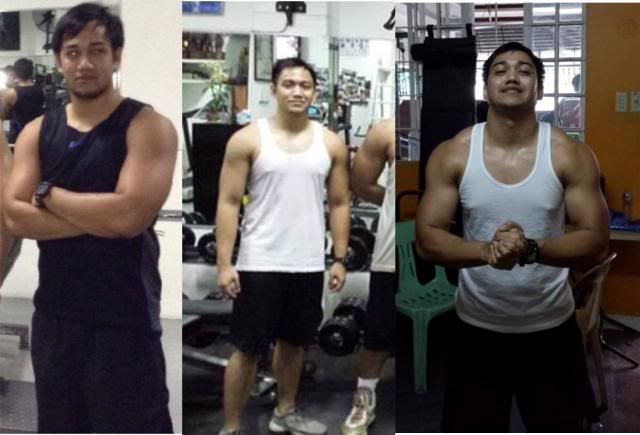 UPDATED PIC (CUTTING):
5 week difference: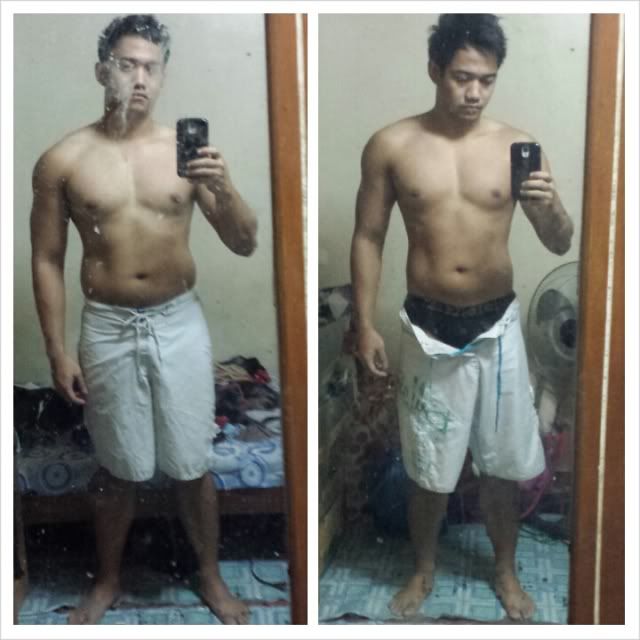 LATEST: 14 week progress
I've read numerous articles from the internet to men's health mags and to books at national's bookstore and powerbooks(which i do not buy:P)
I learned a lot from the 5 years of working out (3 years inconsistent and I believe solid 2 years). Some would work for you. some won't. Some are true, some are shit. The best way to learn is thru experience and be open to suggestions and criticisms.
I was lost before and now I am enlightened. I was confused between strength training and bodybuilding, thanks to the masters that in order to achieve my goal I also need to adjust my training as well (bodybuilding type).
In order to gain you must lose. Lose in the sense that you lose your current look for greater gains and in my case, getting a big belly. I did dirty bulking but put on decent muscle mass as well.
I hope to achieve my goal ala GSP or Jacob black!
That's all. Thank you